Ailighter Air Jet Masturbator Review
Today we will take a look and review the Ailighter air jet stroker. It's worth a review as it's still popular and many my subscribers demand a review on this masturbator. You may have bought or heard of this adult product before, and if you are on the fence on it or wanna get to know male sex toys deeper, this article is just made for you!
In this quick review, we will be looking at the ailigher brand info, air jet details and functions, its advantage and disadvantage.
About the Brand
The Ailighter is an adult sex toy manufacturer in mainland China, based in Guangdong province. Its product line is mainly masturbation toys for men. It has 3 years history since establishment. Nowadays the Ailighter famous masturbators are selling to worldwide.
Zhenduo sex shop are the ailighter's friend and has a business cooperation with them. So we can source the masturbator sex toys in the lowest price. In this article we got a free sample from ailighter!
First Impressions of the Ailighter Air Jet
After received the toy, we can't wait to unbox it.  The packaging is 100% discreet, people will never know what's inside until they unbox it. The box is also very sturdy. The masturbator is intact and brand new first hand. All accessories are included, same as the product description.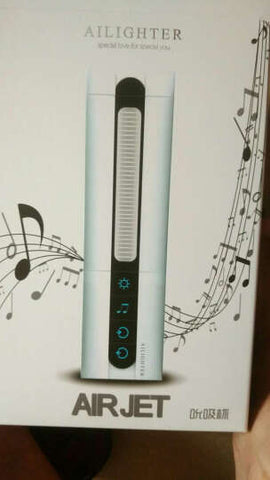 Let's take a closer look at the sex toy. It's a white based color with black button. The main material is ABS, which is hard enough for automatic masturbator. The design is simple and easy to understand. There are four buttons, they are vibration button, voice button, sucking button and venting button. These buttons have a led light when turned on, very convenient for usage in the dark enviroment.
The sleeve is a safe silicone TPE material made, environmental friendly and oderless. It has a good half-transprent color. Tried to stretch it a bit and found out it has a decent elasticity. The sleeve internal design is unique with multiple folding convex. According to my experience, this kind of deisgn and material is very easy to rinse. More importantly,I am sure it will give your penis a nice stimulation.
Features and Specifications
The main features of this ailighter male masturbator are in a quick glance.
Intelligent induction mode.
This is a truly intelligent induction masturbator. Depending on the frequency and intensity of your access. The faster, the stronger the vibration and the moaing. Awesome, right?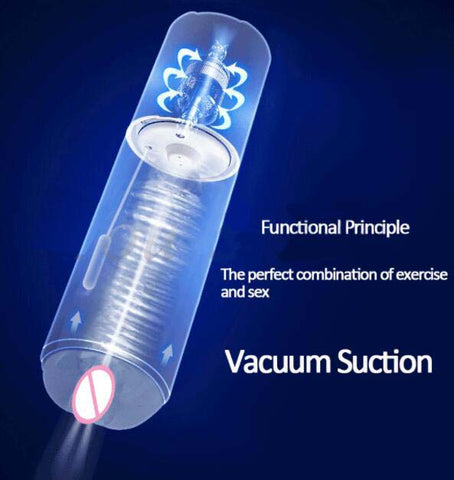 6 Types of Moans 
Endless fun with sound function. Combined with heating and suction, this sex toy will bring you a realistic simulation of making real sex. A hot girl voice make you wild!

5 Automatic suction modes with 1 manual free control.
Revolutionary suction technology patent by Ailighter. It has included even five modes for you guys to enjoy. You won't be dulled in a short time. This is a real semen extractor. The suction is vaccum for unforgettable orgasms! Also it can can be used anywhere, freehand with the strong suction base! Easy to attach to a table, wall or disc.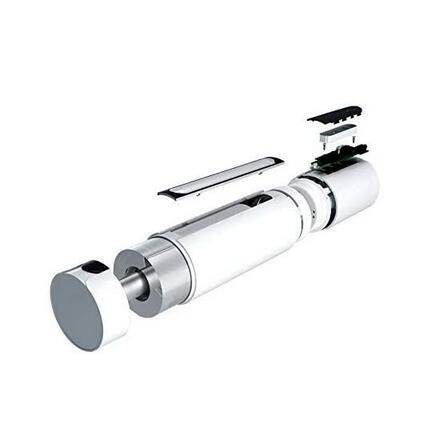 Other Specs:
Material: TPE + ABS
Size: 225*58mm
Channel length: 140mm
Max sleeve mouth diameter: 43mm
Power: USB rechargeable
Can connect headphones
Maximum noise: 45db
Automatic suction, 330 times / min
Package included:
1x airjet stroker
1x USB charging cable
1x suction cup
1x manual book
1x earphone
1x rinse tube
1x lube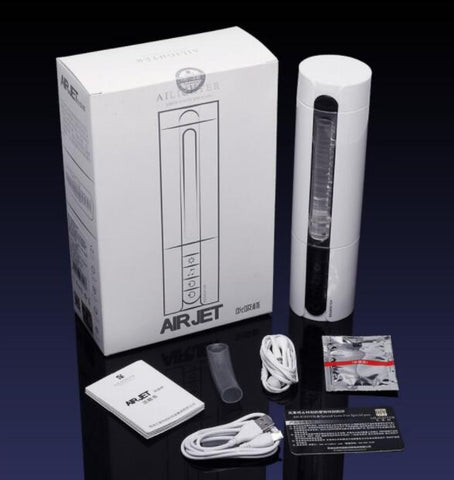 How to Use it?
Need to to be fully charged for around 2-3 hours before usage. The manual book is useful, you could check it or contact us if you have any issue using it.
To use the heat function: Open the lid heat, only need 3 minutes for it to be heated to 45 degrees,
Please insert the heating tube into the transparent colloid before heating. Generally it needs to be heated for 3-5 minutes. When the appropriate temperature is reached, you should stop heating.
Here is the disaseembly after-use steps
First, open the cup and remove the wire. Then directly rinse it with water without taking the sleeve out.
Next, put the rinse tube on the masturbator like the image shows, then press the vent function button and submerge the tube into water for cleaning the dirts inside.
Last, install the wire back and close the cup.
User Experience
Damn, it's just speechless! It feel so good, our staff can't last 5 minute, some can't survive for 2 mins. All our stress are reduced and our sexual dysfunction is improved too. It's just a small try on one sucking mode, let alone there are four more modes are waiting for us to try. Definitely gonna spend a long time playing with it, especially the pandemic era.
Like some of our customer said in review 
Booper. Reviewed in the USA on July 9, 2021:

"Fits great with a bit of lubricant, the suction is really amazing based on how you want to use it (either manual movement, or just swithc it on and wait), 10/10 most entertaining nut ever!"
The Ailighter AirJet Evaluation
The ailighter did a good job on the masturbator technology and the manufacturing. The air jet is really a worthy try and recommend. Its functioning is proven and tested hundreds of times. It can fits most men and if you want an auto stroker with budget price, I am sure this one is definitely your best choice.
Pros
Multiple vacuum sucking function, automatic and handsfree
Induction heating and moaning
Afforable price below $50 for an automatic masturbator.
Local US stock, shipping is discreet and express
Cons
sleeve has a short life span
the channel is short for oversized penis
the sleeve internals design are simple
unclear instruction, manual book is in Chinese
Sometimes the suction cup cannot be fixed